Spore Event Moblog #3
Starbucks!!! Yep, they've got that in England too, and that's where we are resting from the long flight. Junior has now also met Anita from EA and Teun from Spore-Net.com as well, and drank a nice frappuccino (chocolate and strawbettery!) and ate a muffin and a little cake.
This is the Starbucks on the airport in England: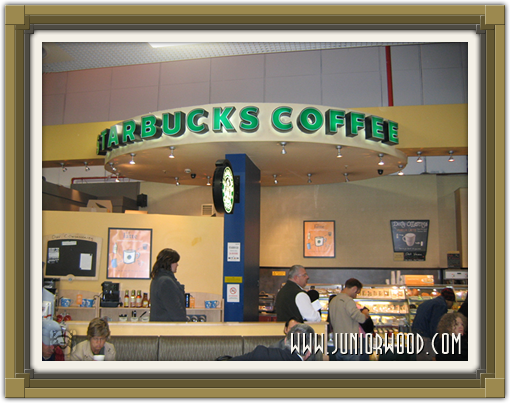 Junior thinks England is dangerous though! Everybody drives on the wrong side of the road! We'll take a taxi to EA, and Junior hopes that'll go well, and that we'll drive forward and not backwards. Junior has never gone back in time this much!
Junior feels very privileged that he can see Spore again, and is really excited!
Junior has been sitting here at the Starbucks at Heathrow for a while now already, and we don't have to be at EA until 11 English time, and it's only a half hour drive. At first we'd get only half an hour to see Spore, but now we may even get 90 minutes to see and play Spore! Junior is feeling even more privileged!
Junior will be back when we're at EA England, maybe just before or after playing Spore. Until goodemorgels!
---