MySims Party Moblog #3
Junior is back again! Ewwoo! Junior is now awake, and the laptop is too, so Junior can now type easily. Junior is now in Utrecht, because Junior first got up really early and then took the train. Junior changed trains in Eindhoven and then Junior had to look for a bit because aunt Resie was in the train already. Unfortunately aunt Angela and uncle Martin couldn't come to the event because it was rescheduled really late and they couldn't get the day off work anymore. So aunt Resie is now going in their place. There is a lot of press already and aunt Anita from EA is also here. Aunt Madelon will also be here soon, she is now a mommy since Junior saw aunt Madelon for the last time, then with Aapje. Junior has heard that aunt Maud, aunt Madelon's daughter, will also be here!
Junior is now in Utrecht, together with the female secretary (now from MySimsNetwork) and the secretary to see MySims Party and MySims Racing. Because those are new MySims games that will be released this year! Junior is really eager to see them, and Junior likes seeing uncle Tim again too! Junior doesn't know uncle Troy San Jose yet, but Junior thinks he'll be really nice too though!
Junior will now get a drink because Junior is thirsty after the long trip. Junior will tell more after the presentation. Later!! Oh yeah, Junior will also go on a picture with MySims because they are on the table!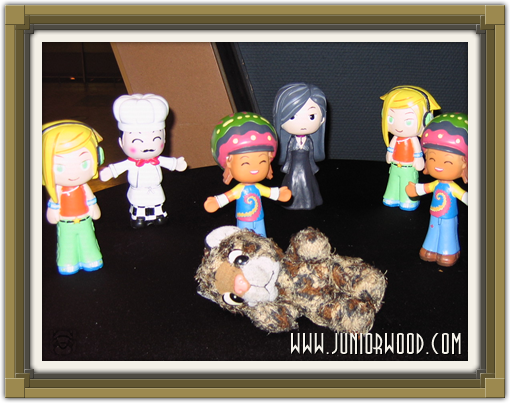 Junior and MySims!
---