Junior's blog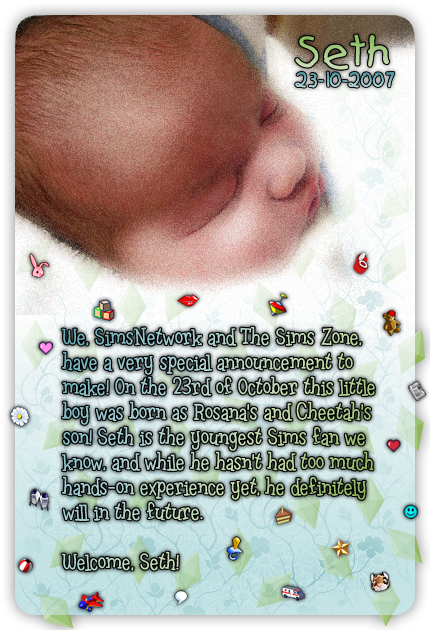 Junior has been quiet for quite some time. Junior didn't even blog anymore! But Junior is still here. Junior also has some good news to share! In September daddycat, mommycat and Junior moves to a beautiful apartment! And since October Junior finally became a big brother! Junior is a big brother of a little brother. His name is Seth and he is verrrrrrrrrrrrrrrrrrrrrry healthy. Born as son to mommycat (Rosana, SNW) and daddycat (ChEeTaH, TSZ) on October 23rd, 2007 at 2.58pm and he weighs 4500 grams (9.92 lbs)! Woah, that's even more than Junior

Junior is very proud of his little brother, even though Seth is not a leopard like Junior! :junior:
---

Junior hasn't blogged in a long time, but Junior was really busy with his dancing career. Junior has visited home in November/December 2006, to the Golden Gate Bridge and Union Square and of course Maxis! After that mommycat (female secretary) got ill and since then things have slowed down.
But Junior has some big news! Since 13 weeks mommycat is getting bigger near her belly! Mommycat and daddycat have told Junior that Junior will get a new family member. Junior was not happy at first. Junior even called Artis to ask if they would want a mini leopard 'in about 9 months', but they didn't want it. And in the meantime, mommycat and daddycat have told Junior that Junior shouldn't sell the new family member, he should be happy. Junior will get a new task in his life, he's going to be a big brother!
Junior still has no idea what it is that big brothers do, but Junior thinks it will be fun! Maybe Junior's new brother or sister can help find Juniorientje, because Junior has been looking for her forever!
---

Junior has a new hobby since very recently! Junior dances with the stars so they can't dance on the ice or with other stars anymore, hahah! Thanks to the female secretary, Junior now has a movie on TouYube... errr YouTube, where Junior is dancing to very cool music! Junior hopes you will all enjoy watching it.
Warning: Junior and his secretaries are not to be held responsible for any broken bones or chairs caused by watching the very cool movie!
---